TIANGEN to Participate at Cell Bio 2022
Date: Dec 02 2022
Browse:
Source: TIANGEN
From December 4 to 6, in Washington, DC, US, TIANGEN will participate and exhibit at Cell Bio 2022, the joint meeting of the American Society for Cell Biology (ASCB) and European Molecular Biology Organization (EMBO), where we will bring the groundbreaking research-oriented automated solution, TGuide S16 Nucleic Acid Extractor at Booth 621.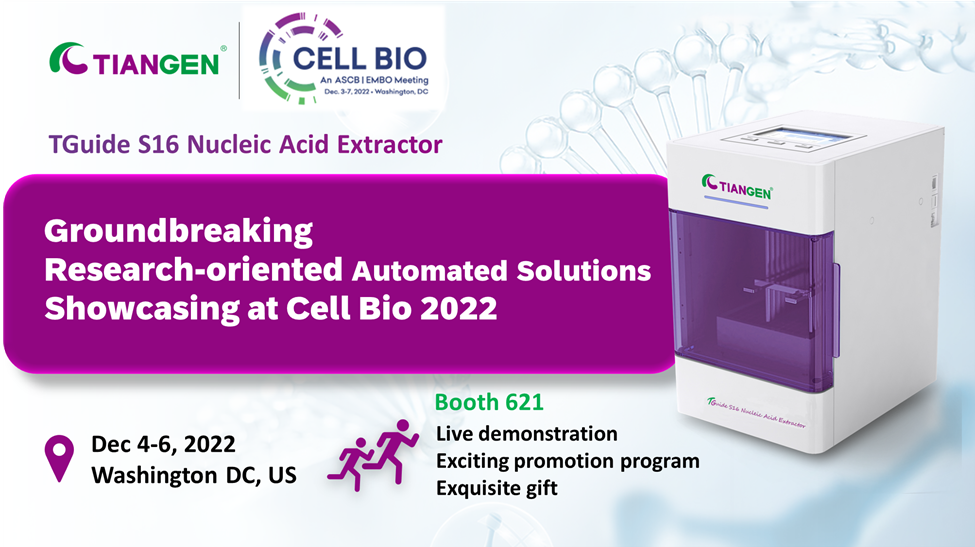 The TGuide S16 Nucleic Acid Extractor can be a brilliant choice to improve scientist's work efficiency and experience. To quickly understand the product:
· Time Saving and Highly Efficient: It can greatly reduce the hands-on operation of nucleic acid experiments, and largely improve the laboratory work efficiency.
· Tailored for Research Use: It provides automated solutions for all sample types of scientists' interests.
· Out-of-the-box Automation: It is super easy to use, with prefilled supporting reagent cartridges and preinstalled programs.
· Competent and Reliable: TIANGEN has been specializing in nucleic acid purification since 2005. We have 12-year experience developing automated nucleic acid extractors and supporting reagents. The upgraded techniques assure you the reproducible extraction of ultrapure DNA/RNA.
TIANGEN will also introduce the Star Product Reviewer Recruitment Program. This program includes 1 on 1 product demonstration, free trial of the automated system, and exquisite gift packs. Interested researchers could submit program application offline directly or online (https://forms.gle/mdrBbvW4dJeEGEXi9). We are very looking forward to meeting all the molecular biologists and cell biologists then.
For more product information, please check: https://en.tiangen.com/content/details_73_7897.html
For any question, please email: linyu.sun@tiangen.com;
For interested distributors, please contact: xinrong.chen@tiangen.com (North America), yanan.cui@tiangen.com (Asia, Europe, South America, Africa, Oceania)